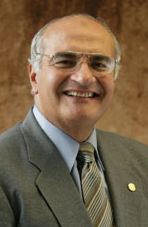 Dr. Amr Baz
Minta Martin Professor, Mechanical Engineering;
Director, Smart Materials and Structures Research Center;
Department of Mechanical Engineering
2137 Glenn L. Martin Hall
University of Maryland
College Park, MD 20742
Phone: 301.405.5216 | Fax: 301.405-8331
Email: baz@umd.edu
C.V. [ View pdf ]

Active and passive control of vibration and noise; active constrained layer damping; magnetic composites, virtual reality design of smart structures, and active acoustic metamaterials.

Ph.D., University of Wisconsin, Madison, 1973
Associate Editor, Vibration and Control Journal, Intl. Journal of Smart Structures & Systems, and Journal of Mechanics of Advanced Materials and Structures.


Please browse the menu on the left for more information.